Fun (and Free!) Holiday Activities to Do With Friends
It may be the most wonderful time of year, but it's also the most expensive. Holiday spending in 2021 topped out at $886.7 billion in the United States alone, with the average person spending just over $1,800. While much of that money is spent on gifts, people are also purchasing plane tickets to visit relatives, seasonal home decor, food for office potlucks and family dinners, and new clothes, just to name a few. If you are looking for a few ways to get yourself into the holiday spirit without completely draining your bank account, there are plenty of fun and free holiday activities for you to enjoy.
See a Holiday Parade
Very few passive holiday activities are more fun than a parade. You can watch the floats make their way down 6th Avenue from the comfort of your own home during the Macy's Thanksgiving Day Parade. If you prefer to do something a little more interactive, there are numerous holiday parades throughout the rest of the holiday season. Bundle up, grab a folding chair and a thermos of hot chocolate and you're ready to go!
Look At Light Displays
Nothing says Christmas quite like a night filled with twinkling light displays. Get together with family or friends and take a walk around your neighborhood, drive around and explore nearby communities, or head downtown and admire all the decorated storefronts. This is also a great way to spend time with your significant other.
Attend a Holiday Festival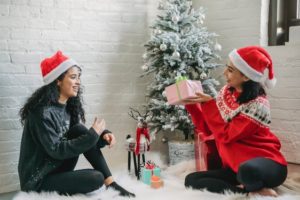 The weather might be freezing but it serves as the ideal backdrop for a local holiday or winter festival. A lot of cities host festivals throughout the holiday season, such as the Dickensian-themed Old-Fashioned Christmas Festival in Cape May. Provided you can refrain from shopping at the vendor stalls, these local festivals can be a fun, free way to spend an afternoon or evening. Check your community's social media feeds or your local newspaper to see what holiday festivals are taking place near you.
Go Caroling
As far as traditional holiday activities go, caroling is a classic. You can get together with a group of friends or join an already-established caroling group and spread some holiday cheer by singing all your favorite holiday songs.
Visit Santa
Visiting Santa is fun no matter how old you are. You can go on your own or, if you don't have kids, offer to take your nieces and nephews. The excitement that children feel over getting to sit on Santa's lap can be contagious and taking pictures with your phone instead of purchasing professional ones makes this a free outing.
Host a Dessert Swap
Do you have friends who enjoy baking? Ask them to whip up their favorite holiday dessert and then host a dessert swap. All your friends gathered together and eating a bunch of yummy desserts is sure to get you in the holiday spirit without costing you an arm and a leg.
Volunteer Your Time
A lot of organizations encourage us to give back during this time of year by volunteering. You could help out by working at a soup kitchen, hosting a toy drive for needy kids, making cards for nursing home residents, or handing out necessities like socks and blankets to the homeless. Look up charitable organizations in your area and give them a call.
Host a Potluck Dinner
Rather than spending a ton of money at the supermarket so you can make a huge holiday dinner, consider hosting a potluck. Create a guest list and have each person bring one dish. This way you get to enjoy a nice holiday meal with your friends without emptying your bank account or spending an entire day in the kitchen.
Let us know in the comments below what holiday activities you'll be doing with your friends!